2020 YEAR OF THE RAT • SEASON NOT OPEN • NEWS UPDATE • 1 of 2 Editions
Greetings Everyone:

Season #17 Grand Opening is not happening due to the worldwide coronavirus pandemic
which came a bit to early for us the general public and way too late for our incompetent
government working under an _____ ______. (you fill in the blanks)
* Regarding a visit to Escalante Rock Shop during
the Coronavirus "Lock Down" *
Escalante Rock Shop is CLOSED until further notice.

Remember:
Coronavirus preventatives are required when shop does open:
No hand shakes, hugs or kisses.
Forget elbow bumps and use hand signals for greetings & departures.
Stay home if you feel sick, are sick or think you might get sick.
Wash your hands about 30 times a day like our town organic grocer.
Keep your hands away from your face, nose & eyes.
Cover coughs, sneezes and wear a facemask.
Keep a 2 meter social distance

You should probably stay home this year and order rocks from your favorite rock
shop without leaving your favorite I-phone or computer chair. You might want to order a handful
of worry stones for your pockets and some healing rocks for peace & change for an altar.
What's new for 2020:
The bi-yearly news update format has changed. It is now linked to the home page.

"Scottz Rox" short & long sleeve pigment dyed t-shirts here.

Jade (nephrite) from Wyoming is the season featured rock. Rough, slabs and some large cabs,
colors ranging from apple green to black are available. We all might want a pocket specimen.
Jade = "Good Luck."

A box of wild "Arkansas Diamond"quartz crystals & clusters all sizes & a small fossil
collection is new.

During the shop rearrangement some nice rough coprolite reappeared as did $100 per/lb.
gem varisite from a hidden stash.
More Lapidary-Rough Stuff
If you are a lapidary person, 8-10 gram jewelry size slabs of Sleeping Beauty Turquoise, gem
chrysocolla, jaspers, dinosaur bone and miscellaneous assorted were recently picked up from
one collectors stock. The Wyoming Jade (Nephrite) is from three collectors - black, olive and
apple rough cut. There are tiffany stone slabs, moss agate, rough opals, obsidian apache tears,
moqui marbles, petrified woods, fossils, quartz, amethyst crystals, Michigan copper slate slabs -
all new. There is plenty of old stock recently rediscovered in barrels and storage. If you are a
display person we have at least 80 new cut & polished petrified woods and agate slabs. If you
are a collector of dinosaur bone, have questions, need to see specimen pictures not shown on
the webpages, or you have a special requests, email: escalanterockshop@gmail.com
Shop Updates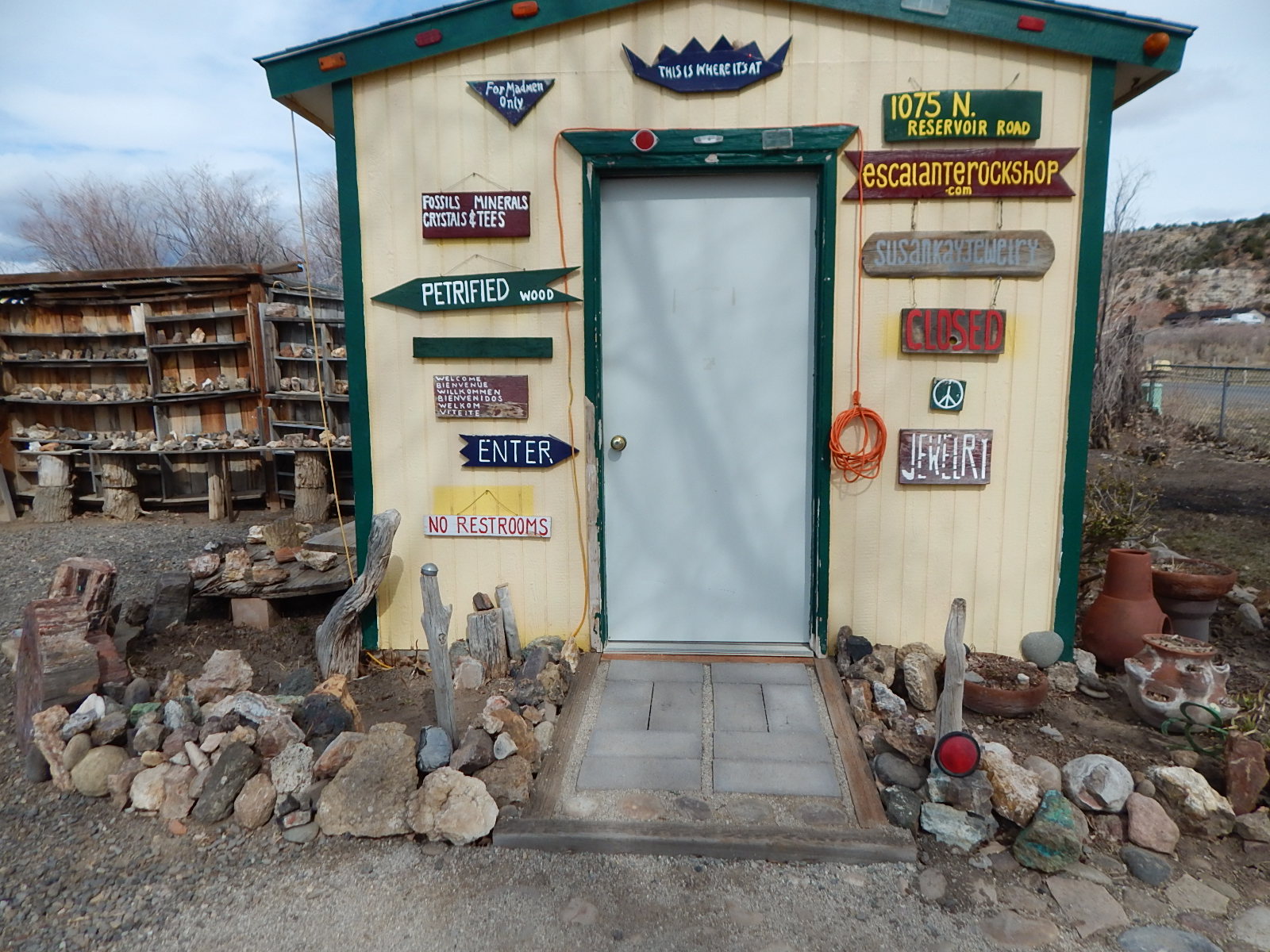 There is a new museum shop entrance way. 17 years in the making.
6 of the 54 signs needing paint were completed as of 3/13/20.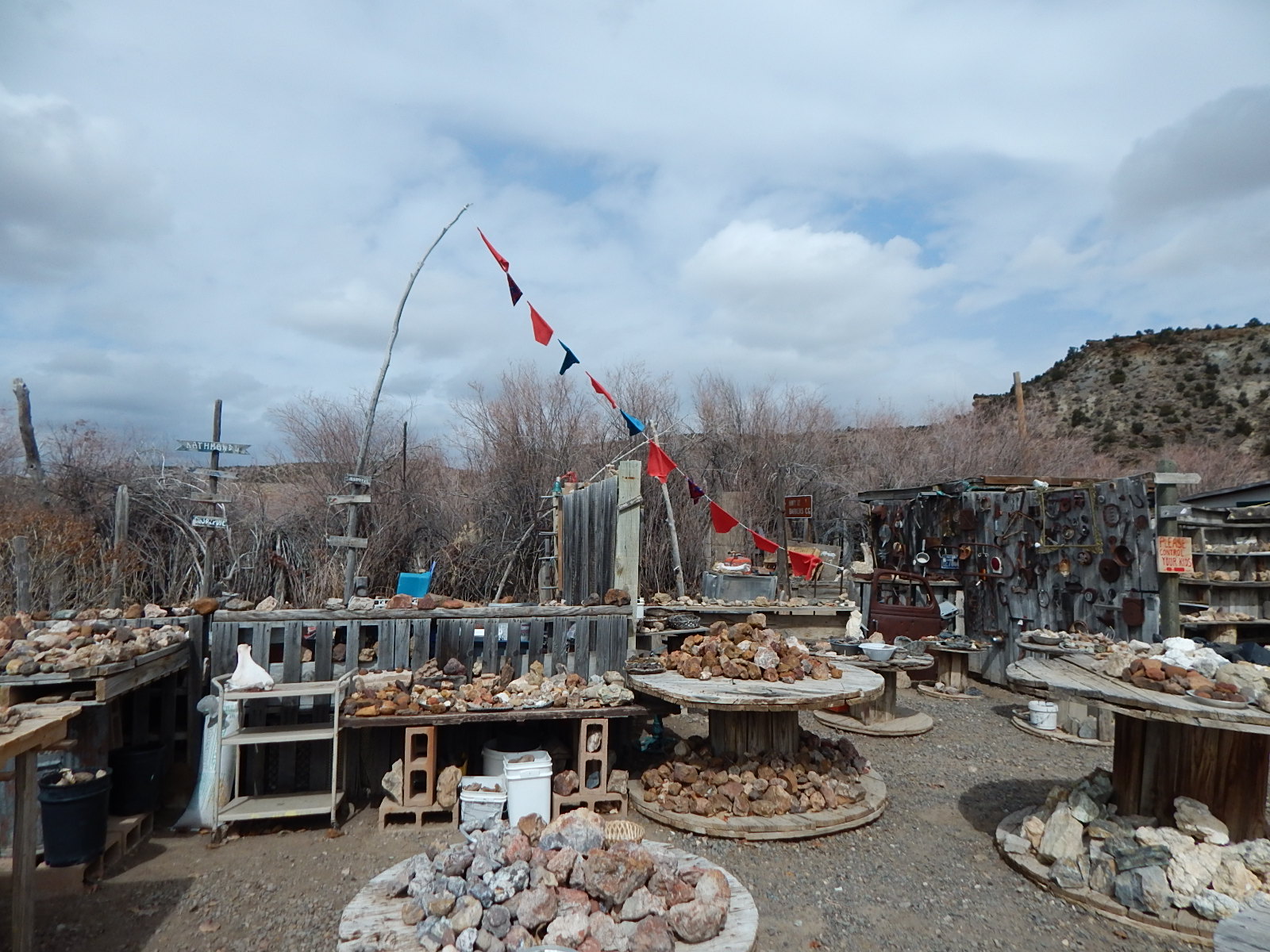 The New prayer flags are on-line, blowin' in the wind & weather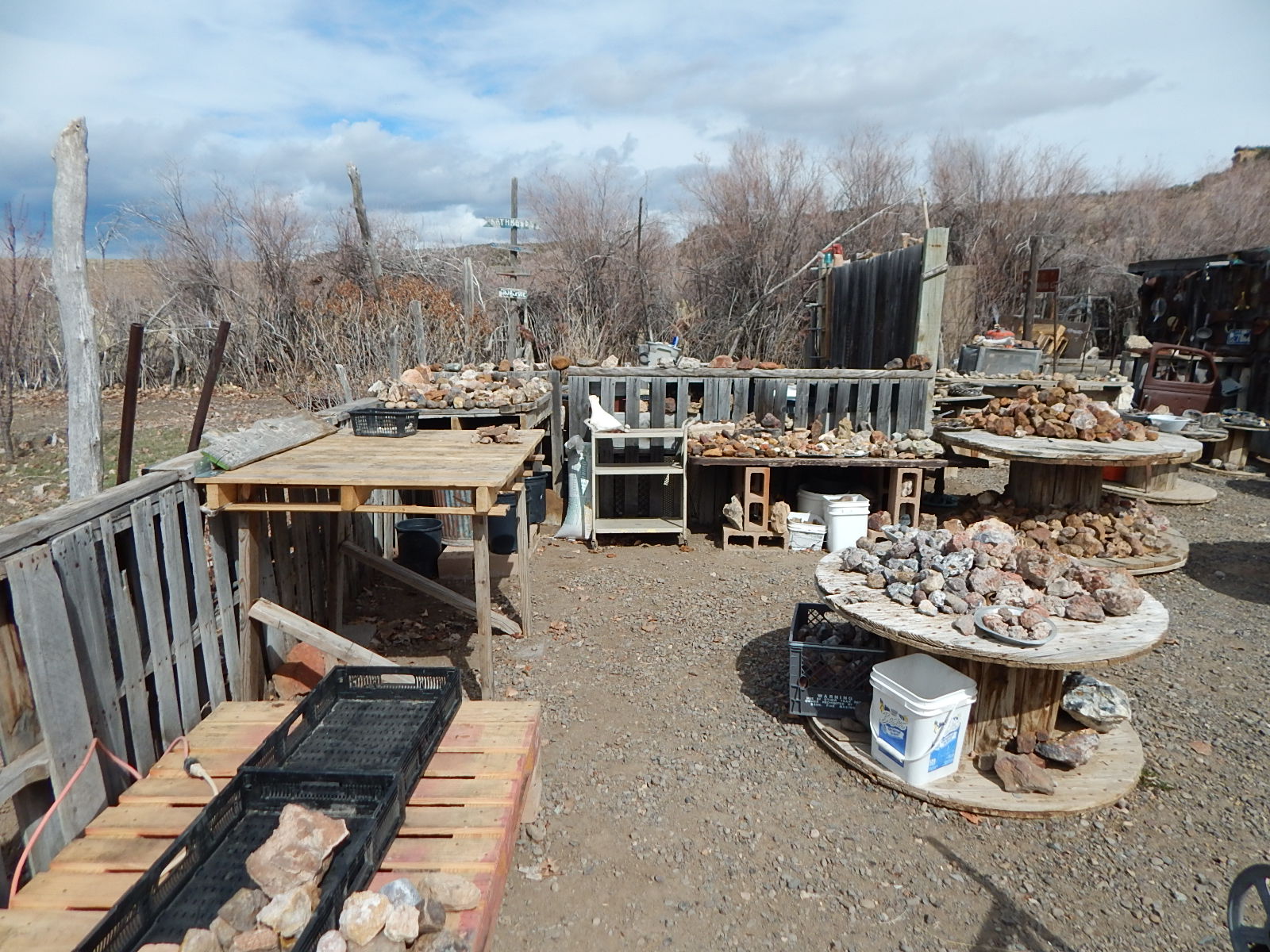 The shop has some new pallet tables. The falling over fence was given a re-
construction uplift to secure table for more rocks. "Can't have too many rocks."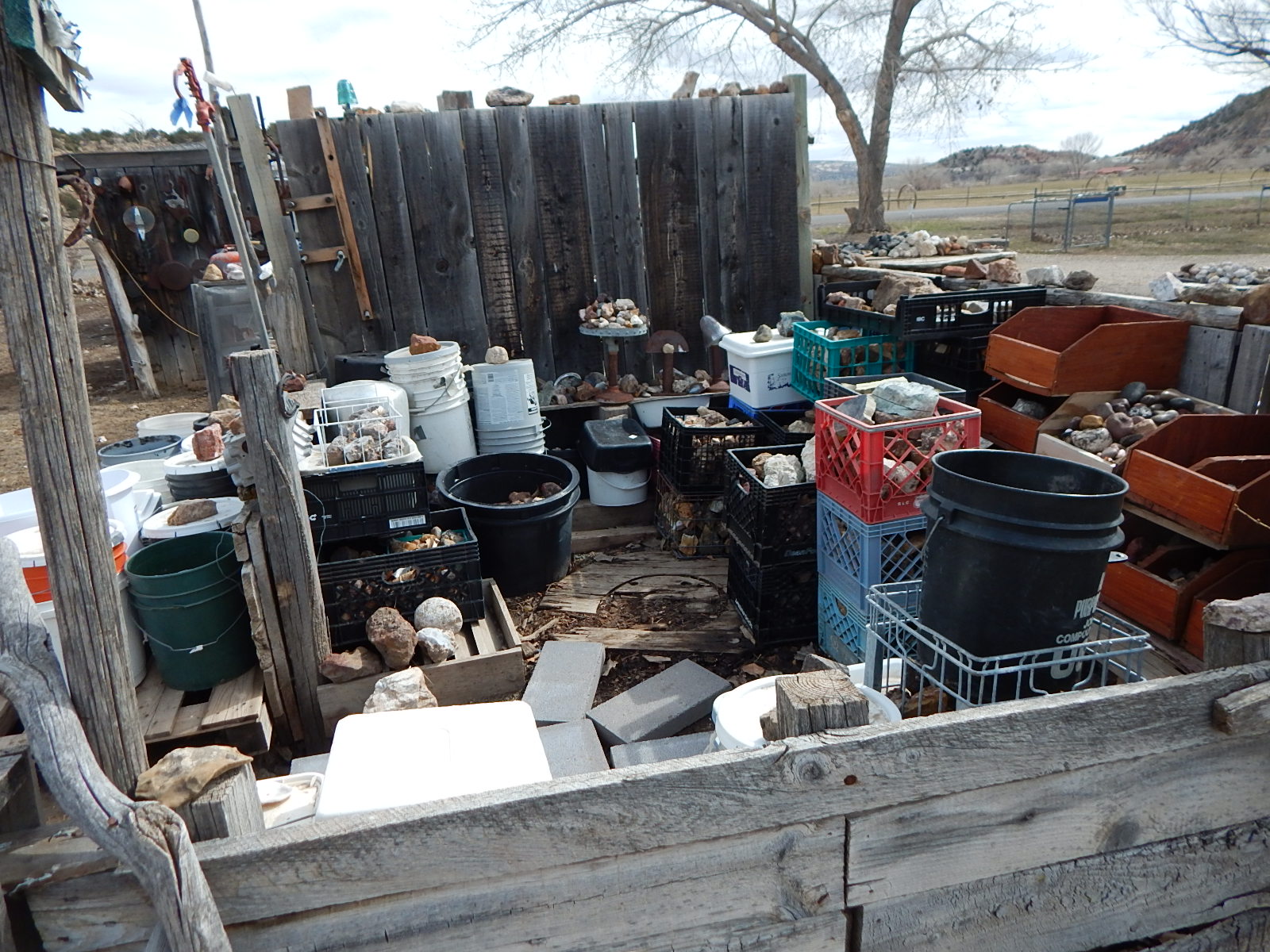 The rough storage, hang out area, has some space now and given rise to
hidden treasures not seen in years; specimens that should be in the museum
shop or preferably, on your display shelves & cases.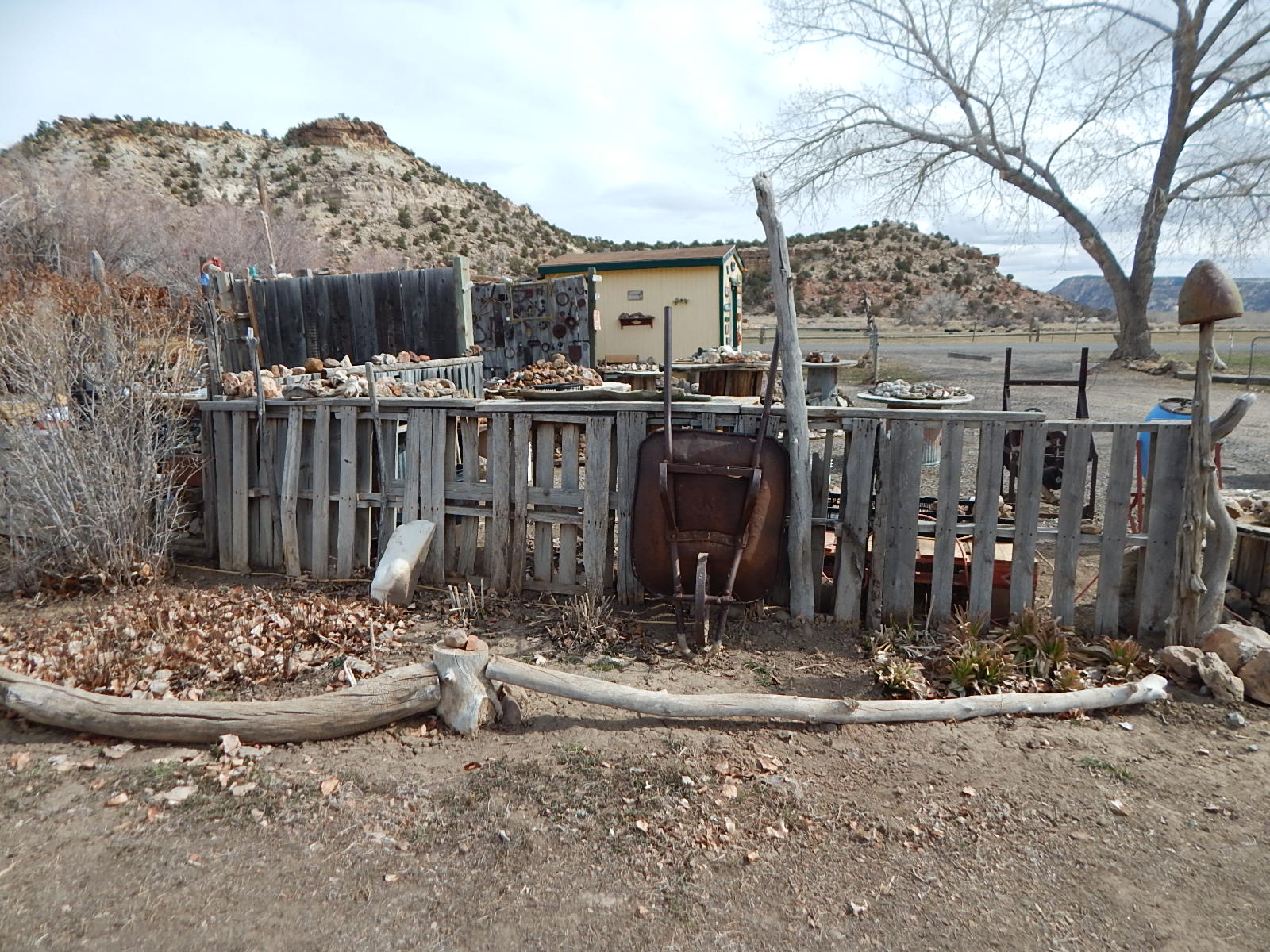 The large cottonwood tree near the shop received a major entrance branch
chainsaw cutting. The state road shoulder is so clean that PARKING on it (instead
of Parking & Turnarounds on the Residential lawn) should not be a problem.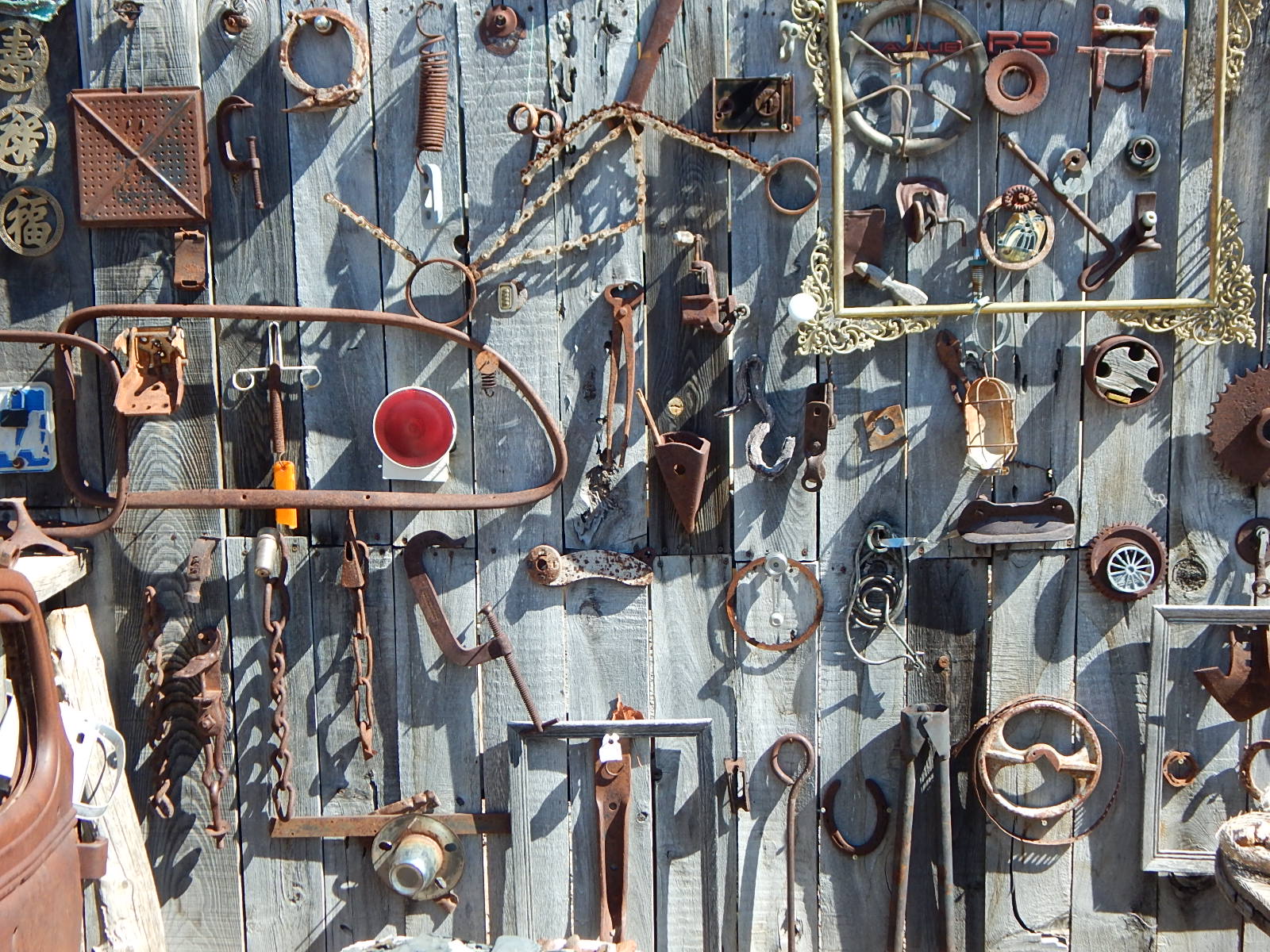 The updated Escalante Rock Shop "Rust Art Wall" is available for sale
and background selfies. ©2020 Escalante Rock Shop
The jewelry page - http://www.susankayjewelry.com has been updated. Check it out.

Thanks to all who still read & trash the news update(s) and opt-not to
drop off the list. Also our return customers, collectors & suppliers who keep the Rock
Shop open and webpages needing updates.
Email us if you receive a news update more than once.
To opt-out: Reply with remove in subject.

Please forward escalanterockshop.com to someone, somewhere and we'll look forward
to a webpage, facebook, email, call or rock shop visit in the future.
Check us out on facebook/escalanterockshop.
It has a fine gallery of pics and interesting geology articles/links.

Saludos & Paz & Recovery help from a World gone mad.
Scott
http://www.escalanterockshop.com
http://www.susankayjewelry.com
http://www.sendatee.net
---
1-435-826-4796
"Thank you for visiting our page"
---
Website / Images ©2004-Present. Escalante Rock Shop. All Rights Reserved.
Webpage Updated: April 4th 2020.