News Update EDITION 2 of 2
End of Season 2021
GREETINGS

Rock Shop Season #18
Episode 2 entitled "Un-Masked in the Grand Staircase" is over. Yahoo. The
Episode was an interesting let down, so I'll spare any readers the season's
details (unless a signed e-tronic nondisclosure agreement is received).
Thanks to everyone who visited the shop, wore a mask, had a vax or two
and no axe to grind. Sorry if we missed you as the shop turned part-
time proprietor procrastination gig. Not too unusual, at least the procras-
tination part. Masks just weren't hip with 40% of potential customers, but
confrontations were. End of story.
---
This Issue goes To GML Rock n' Art - Greg Little
(October 17, 1947 - May 27th 2021)
Dear Greg:
Thanks for hanging in there those extra couple years so we
could look back at 66 years hanging out as kids in and on the
rocks. Thanks for twisting my brain - everything from Walt
Disney Disneyland to Chloromelanite Jadeite from Burma
in Escalante. You were King of Rockhounds. Adios Amigo.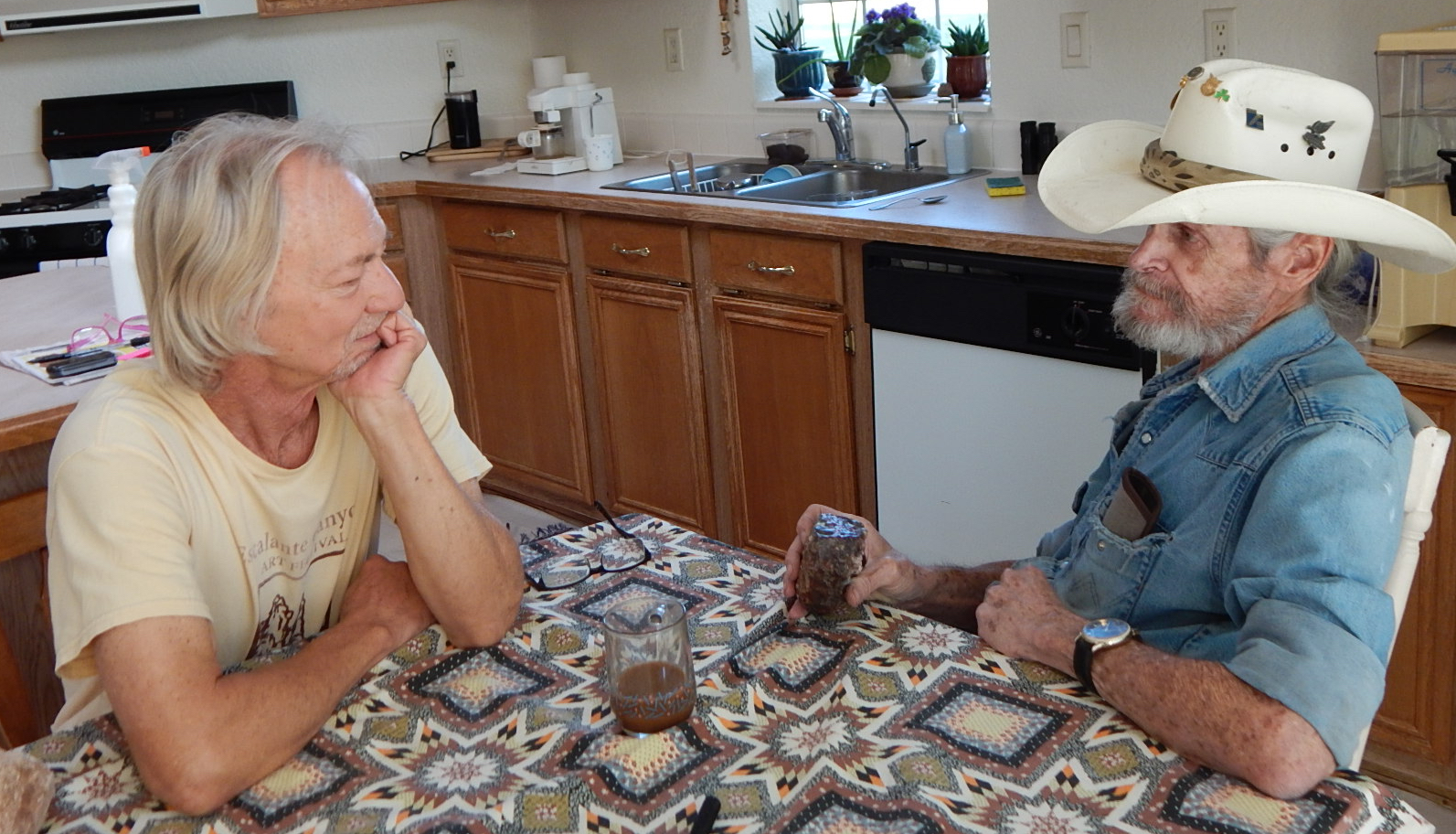 ---
The Winter Good Web Marketing News • Rocks!
Web site pages have been updated with 60 new rock & roll specimens &
another 30 in the works scheduled for January 2022:

1. Local Utah dinosaur bone, small gemmy high polish specimens (good
for cabochons, jewelry or just gazing for some karmic understanding while
you are mind traveling abroad) is plentiful this time around.
2. The famous Ticaboo, Who? Coprolite (fossilized dinosaur colorful
agate feces to enhance your memory and give you some courage to face
life) is outstanding. It should sell out in a hurry. There are some dynamite
specimens for display or for studying the agate fossil remains of what a
dinosaur ate 145 million years ago. Check out the Gastroliths and
(Gizzard Stones) too.
3. This Season's featured Blue Forest Petrified Wood is from near Farson,
WY. Its cool as Big Sur Jade & may change your life. So you might want
to load up, on both wood and jade, that way good fortune can go along
with the change.
4. Agate Yes everyone can't help but like agate. Why? Because it is sup-
posed to Amp you up. Agate is plentiful and appealing with crazy names
like Crazy Lace, Flame, Lake Superior, Moss, Dendrite, Blue Lace, Condor,
Banded, Carnelian, PIgeon Blood, Flower and about 9,000 other names.
The Rock Shop named one "Surprise Agate" & it sells in Virginia? Imagine
that. The gallery favorite is the slab of "Holly Agate" extra rare @ $3.00
per/gram, most expensive specimen on web site. Gemstone material.
5. This link gets you to the Moqui Marbles Web page. They found the
same type of concretions on Mars. It was one clue water was present at
one time on Mars. It took iron rich groundwater and sand to make them -
a grain at a time for about 25 million years or so. A pair of them will
surely ground and un stress you.
6. There are new Healing Crystals . What else is cool for Winter? If you
are a lapidary person, check out the Rough. We are stocked except
in Dinosaur bone rough.
7. Lots of new specimens here Petrified Wood & there Petrified Wood -
20 million to 200 million years in Geological Time. Imagine that.
8. ScottzRox Adult T-shirts & Women's Cap Sleeves
Still a couple dozen in stock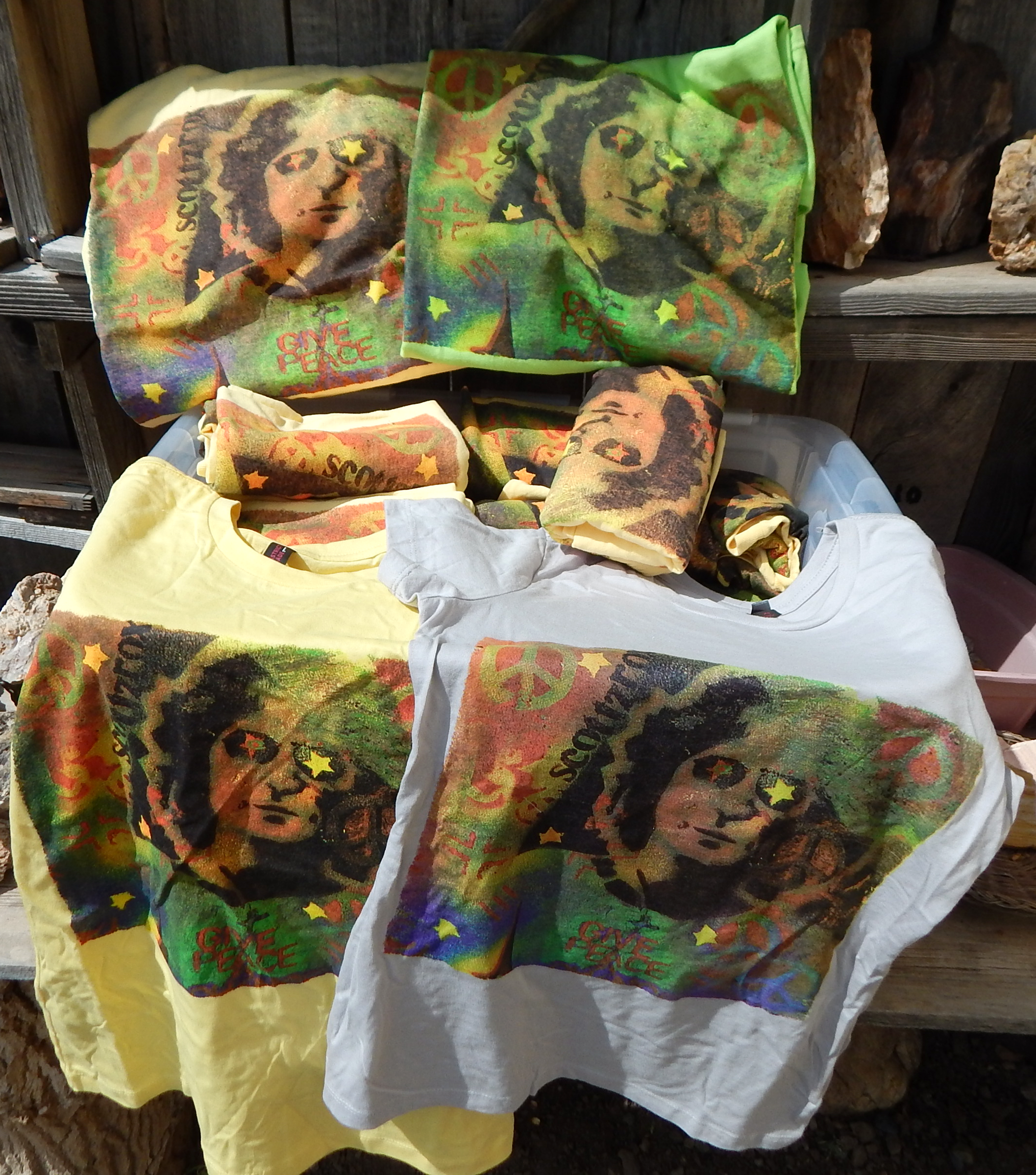 ---
9. New News again, just in case you missed last issue.
Escalante Rock Shop fine art gallery
"entrance not for everybody • for madmen only"
---
10. Thanks to all those who may still read, trash and hopefully
will forward the couple yearly news updates to someone cool.
Email me if you receive a news update more than once or if you find
a problem with the web site.
To opt-out: Reply with remove in subject.

Please forward escalanterockshop.com to someone, somewhere and
check out facebook/escalante rock shop. It has a fine gallery of 18
years of fine specimens. And until next time...

Saludos & Paz
S
http://www.escalanterockshop.com
http://www.susankayjewelry.com
http://www.sendatee.net
---
1-435-826-4796
"Thank you for visiting our page"
---
Web site / Images ©2004-Present. Escalante Rock Shop. All Rights Reserved.
Web page news Update: November 7th 2021.