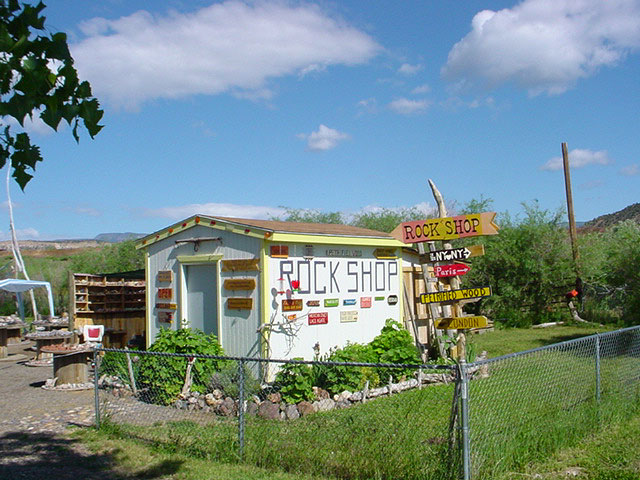 Escalante's World Famous Rock Shop & International Roadside Attraction
Specializing in Utah's Collector Rocks & Petrified Woods
Open year round 9am - 6pm • Winter, call for appointment
Search Google Maps for Escalante Rock Shop Directions
Petrified Wood, Rock, Mineral, Fossil Shop located in the Grand Staircase Escalante National Monument, one
mile west of Escalante off Scenic Byway 12, below the Escalante Petrified Forest State Park and Campground.
• 475 N. Wide Hollow Reservoir Road • Escalante, Utah 84726 • email • Phone 435-826-4796 •


escalante rock shop
---
Recent News:
Webpage updated May 9th thru 13th. Two dozen new specimens added.
Shop is open for the Season 9am to 6pm daily .
Lots of new specimens, unseen inventory,
new line of Escalantees & hats. and a new brochure rack card.

Escalante Rock Shop has a Facebook page. The photo gallery has 84 all time favorite specimens.
Email us if you want on Subscribers list. or want to opt-out.
---
MAY 2013

Escalante Petrified Wood Artwork by GML Rock & Art
Change
---






Please Note: More pages & items are listed at the bottom of the above links pages. If you see
a sold item you want, be sure and contact us. We usually have the other half, slab or similar specimen.
Petrified wood, fossil fern, palm, cycads, agates, jaspers, dinosaur bone, coprolites, cabochons, Moqui marbles,
thundereggs, obsidian, variscite, geodes, rough, cut & polished slabs, tumbled stones, unusual fossils, minerals,
crystals, semiprecious stones, gemstones, ( jewelry & jewelry services ), fun rock & petrified wood museum,
( Escalantees ) our fine line of t-shirts and customer coffee. Hundreds of cool items to choose from.
Contact us

Phone 435-826-4796



Unique specimens - are continually being sold & added, so don't forget to bookmark this site, check
back often. Specimens similar to the ones shown or sold on these pages are usually available, just email
us about any item you are looking at marked sold. We try to fulfill all customer requests.
If we don't have what you are looking for, we will do our best to locate it.

We Accept: Credit cards via PayPal, company checks, personal checks, money orders, cashiers checks.

Return Policy: The purchaser has 3 days after receipt of the item(s) to contact Escalante Rock Shop
by phone or email if not satisfied with item(s). Arrangements will be made for item(s) return & refund.
PLEASE NOTE THE SHIPPING COSTS & INSTRUCTIONS:
* * * Shipping & Handling: $ 5.80 is charged for orders that can fit into a small USPS PriorityFlat * * *
Rate Box. On orders that will not fit into small flat rate, we will notify you & paypal invoice the
difference before order is shipped. International Orders are shipped USPS Global Priority flat rate.
"Thank you for visiting our page & don't forget to come back often"

Website / Images ©2004-Present. Escalante Rock Shop • All Rights Reserved.
Website Updated May 13th 2013.